 Our Technology Partners

Poly HP

Unified communication solutions
Poly offers a suite of video conferencing products that are cost-effective and fully scalable.
Poly is the authority on unified communication solutions. Offering the broadest range of video conferencing systems available, Poly products deliver rich, life-like face-to-face communications and experiences that feel natural and enable every participant to engage intuitively and securely.
End-to-end applications for the Poly suite of video conferencing products extend across vertical markets, notably where on-demand, secure and transparent communications are key. From mobile and desktop products for personal workspaces to wide-scale solutions, these cost-effective systems are all fully scalable and include accessories that enhance, expand and integrate still further.
Poly's intelligent collaboration solutions for small to medium-sized rooms include compact, entry-level systems with in-built IP connectivity for fast visual participation between groups of just two to beyond 200. Large conference rooms that represent the most demanding conferencing environments are covered by a portfolio of industry-leading solutions for deployment in dedicated spaces from conference rooms to lecture theatres and auditoriums.
Resources
Our sales experts are here to learn more about your business needs and provide the right products & solutions.​
Let's talk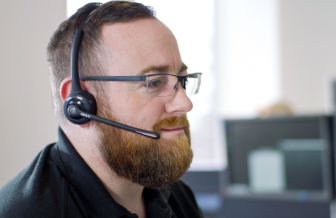 To book time with one of our experts please fill in your details below or call +44 (0)1784 601550.