 proAV UC Guide | Poly & Zoom Rooms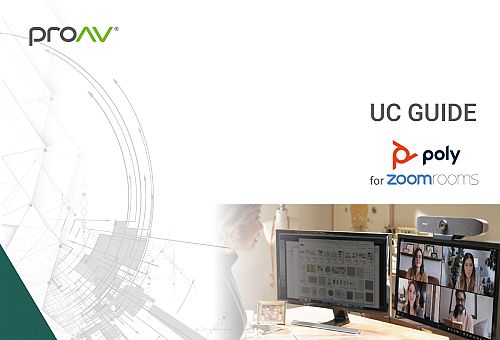 Poly + Zoom | Raising the Bar on Video Meetings
Poly's portfolio of next generation room solutions—optimised and certified for Zoom—make it easier than ever to bring people together to get things done.
Whether it's talking on the phone, conferencing via video, or sharing content, we're here to help everyone huddle up, talk it out, and move it forward with Zoom.
Poly's audio and video innovations make Zoom communications feel natural and work effortlessly. Poly has a wide portfolio of solutions with Zoom integration, from room video to conference phones— for huddles spaces up to large rooms— and from headsets to desk phones.
Make every experience a great one with optimized and joint certified solutions for Zoom Meetings, Zoom Rooms, and Zoom Phone.
Poly Lens Cloud based management platform, allows visibility into modern workspaces across the entire organization, with a spotlight on how devices are being used, so you can efficiently & remotely provision, monitor and troubleshoot from a single pane of glass.
As a Poly Gold partner, a Zoom Rooms Gold certified integrator and Zoom authorised licensing reseller, proAV is uniquely positioned to assist you on your Zoom and Poly journey.
Register to download
To learn more fill in you details and this resource can be yours.