 AV & UC Services
Project Delivery
Your project is in safe hands with proAV
You can count on proAV for excellence throughout every phase of your project.
We know you need your technology to just work, and we harness our expertise and ingenuity to create AV and UC systems that deliver on every level - a great user experience, the highest levels of uptime, and systems that can be monitored and managed efficiently.
With proAV, every phase of your project is designed to deliver - from the earliest stages of proof of concept, standards development, system design and testing, to build, commissioning and transition and training.
"All of these integration projects were completed with a high degree of success. In particular proAV's rack build is the best in the business and also we were more than happy with the quality of the installation engineers who approached the project with an appropriate level of flexibility yet attention to detail."
Daniel Roberts
Assistant Director for Technology Operations, LSE
System Design and Development
We put our industry-leading technical resources to work to design solutions that deliver your digital transformation goals.
---
Successful projects begin with discovery and planning to define the needs of the organisation, people and workspace.
They require, through technology reviews, an assurance that new systems will happily co-exist in your infrastructure and understand any challenges to be overcome like the integration of legacy systems, and detailed assessment of suitable products, testing and proof of concept.
They need development of standards, to ensure solutions can be deployed at scale and speed, will scale to future needs and can be serviced and supported effectively.
All followed by detailed design and specification, and the creation of all schematics.
Our structured development process takes system design through all phases including roadmaps for end-of-life and follows a collaborative approach with client and other stakeholders.
Proof of Concept and Demos
Successful deployments start with good planning, including demonstrations and proof of concept, or POCs.
---
Our proven POC process starts with scope definition, followed by integration methods to establish communication paths, protocols, network security and coordinated design. Next we build in a sandbox environment with simulated client LAN and system configuration then follow this up with rigorous testing and demonstrations for stakeholders, all before delivering an approved working solution.
All technology types are covered, along with third-party integration and service management platforms.
Rack Production and Testing
proAV provides bespoke rack design and build ensuring the highest manufacturing standards.
---
Although few will ever see them, racks are essential infrastructure components that house mission-critical equipment requiring the highest engineering standards.
At proAV all racks are built to the exacting standards detailed in our Global Engineering Standards Guide. Within our 14,000 square foot production facility we provide full build, staging, and test capabilities, and only once comprehensively assessed and approved will they be transported to site for installation.
Whether it's for a single room, multiple systems or a new global HQ, racks only leave our facility once they have completed a rigorous off-site test and commissioning phase; this is just part of the process we run to maintain the highest standards of quality and to ensure the most efficient delivery against the project programme.
AV and Data Installation
The expertise of proAV's engineers and technicians is second to none, ensuring excellence in installation every time.
---
proAV offers the largest and most experienced in-house technical team in the industry.
We are able to offer a full suite of installation services, from infrastructure and building-wide solutions through to UC rooms and fully integrated AV and Broadcast systems.
The team is trained, qualified and highly experienced, to ensure exceptional quality of delivery throughout.
We cover all sectors, verticals and geographies; from education and public sector through to corporations and global enterprises.
Programming
Our in-house programming skills are the key to seamless integration of your systems to create the ideal user experience.
---
Programming is part of the essential glue that tailors your systems for your needs, and our 12-strong programming team has a unique blend of IT and AV skills.
Experts in both standards-based IT programming and AV control, a high value skill-set that ensures they understand and integrate with all aspects of your technology infrastructure.
Our in-house specialised teams range from .NET developers to front-end developers as well as traditional AV vendor specific methodologies. This broad range of knowledge allows us to bring traditional AV systems into a fully immersive and intelligent ecosystem, harnessing the full potential of our modern IOT world.
This vision allows us at proAV to no longer consider it as 'just AV', we seamlessly mould all collaboration and data platforms into a single, seamless and essential experience.
AVIT Systems Commissioning
AVIT Systems Commissioning is an essential project sequence that links technologies to provide a working solution.
---
An essential part of the project sequence, AVIT systems commissioning begins at our dedicated off-site commissioning and staging areas. All elements of the systems are configured to meet project and industry specifications and rigorously tested before acceptance.
No matter the challenge, all systems are put through their paces to ensure they deliver a seamless and trouble-free experience and meet expected performance levels.
Our robust commissioning methodology coupled with a dedicated team of 23 certified off and on-site AVIT commissioning engineers, ensure systems are integrated to the highest standards to deliver you technology solutions that are proven to be ready for enterprise use.
Project Management
Making your installations run smoothly – start to finish.
---
Our Project Managers have a wealth of experience in delivering all manner and size of projects.
They provide a single point of client contact and drive effective communication and collaboration with project stakeholders and partners, from architects and construction to client technology teams and technicians.
Supported by their dedicated Delivery Team, the PM will drive the project forward to meet all programme, technical and quality deliverables.
Transition and Training
When new technology introduces new ways of working requires a well-implemented change management strategy.
---
Whether your people feel comfortable with your new technology determines the success of a deployment and underpins your digital transformation journey.
We ensure our clients have seamless transition from installation and commissioning into effective use with a transition and training programme that is tailored to the needs of your organisation and the people using and supporting it, as well as and any involved third-party service suppliers.
Want to learn more?
Let's talk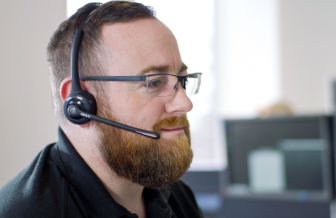 To book time with one of our experts please fill in your details below or call +44 (0)1784 601550.
---