 AV & UC Services
Professional Services
So much more than just AV integration
Successful AV and UC deployments take more than design, supply and installation and proAV provides all the professional services you need.
You're in safe hands when you trust your AV and UC to proAV.
We plan, design, deploy, support and evolve end-to-endless solutions that are reliable, efficient and run smoothly and safely on your network.
Our professional services lie at the heart of our offering, from technology review to standards development, network provisioning and integration to software development and creative services, not forgetting a dedicated account management team that ensures everything runs smoothly during deployment and after, whatever its scale.
"I have worked with proAV on a few Cooper Parry projects, in particular directly with Ian Wallington. We tend to be quite sketchy with our requirements from the outset at times, but Ian provides us with numerous options that could work with our brief and walks us through cost and functionality. We have been provided with demo kit, as a try before we buy, which has been really helpful."
Joanna Giles
Head of Facilities, Cooper Parry
"As one of our key partners, proAV has continually gone above and beyond to not only specify Shure products, but also partner with us in beta testing, proof of concepts and joint presentations.
Their teams, from design through to sales and delivery have ensured that not only have they understood the benefit of using Shure, but have gone out of their way to find innovative ways to ensure that end-users understand the importance of great audio."
James Hill
Director, Integrated Systems, Shure
Technology Review
Which technologies are relevant? Will they be compatible with your current estate? When is the right time replace them? Our technology reviews answer those key questions.
---
proAV takes away the burden of too much choice, identifying which technologies will deliver your successful digital transformation from the baffling array of available options, make sure they work smoothly within your estate without conflict and disruption and manage obsolescence, recommending when refresh is technologically and economically beneficial.
We can even advise on the best way to deliver service, including new ways to finance enterprise-wide AV and UC&C technologies.
Standards Development
Trust us to develop standards that deliver easy to use, reliable workplace technology that deploys at speed and scale.
---
You want workplace technology that just works, that is walk-in-and-use with the same familiar user experience in all your workplace's meeting and collaboration spaces. And that takes standards.
proAV develops standards for you that deliver stable and reliable platforms, incorporate leading-edge technologies, deliver consistently great user experience that maximises adoption, which are scalable and can be fully managed, monitored for maximised uptime and can be tracked remotely for utilisation analysis.
Unified Communications
Delivering end-to-endless UC&C solutions that just work for your business, your users and your technical team.
---
We deliver end-to-endless solutions that power unified communication and collaboration that just work for your business, with minimised support requirements.
We deploy our expertise and experience to ensure you deploy successfully, implement smoothly, utilise effectively and support remotely – all core requirements of digital transformation.
From needs analysis to system design, network provisioning and integration to installation and commissioning, from remote to on-site monitoring and management to proactive or reactive support through to refresh, update and obsolescence management – delivered with CapEx or Opex models or a hybrid of both.
Network Integration
We shoulder the burden of ensuring your AV will run smoothly over your network, free from conflict with other devices or compromise on AV quality.
---
You need your AV on the network to deliver enterprise-wide unified communication and collaboration that is reliable and consistent for users, and efficient to monitor and manage remotely.
Separate VLANs or bans on video over the network just don't cut it when you're driving for digital transformation and an agile, flexible working culture.
But getting AV to run smoothly, without conflict with other network traffic and networked devices or compromise to audio and video quality and latency is no small challenge.
We know this is what keeps CIOs awake at night, so we can handle all aspects of network integration and provisioning.
We ensure your network is correctly provisioned right at the start so it is ready for your planned AV, UC& C and control. We can liaise with your virtual and hard network partners, provide high and low level design and ensure AV functions harmoniously.
We hold workshops for your client teams, in-house or outsourced to ensure quality of service. And we can even conduct real world stress tests in advance.
Software Development
proAV clients can draw on the unique blend of IT and legacy AV programming skills of our dedicated, in-house team.
---
Our in-house programming team of twelve is expert in both IT programming and the quirky world of AV device control, a high value skill-set that ensures they understand and integrate with all aspects of your technology infrastructure.
They work in a variety of programming languages including C#, Python, Windows programming and HTML5 as well as legacy proprietary AV coding – all essential to helping you migrate your AV and control to an IT standards world, which for a large estate is likely to include legacy dedicated and local room control.
Creative Services
Let us create the content you need to customise your collaboration user interface, visualise how your project will look or feed the content-hungry beasts that are videowalls and digital signage.
---
Great AV demands technical excellence but also hit the right aesthetic and ergonomic notes for your company culture, and that's what you get from proAV.
Our creative content services include conceptual design, visualisation and 3D renders to aid design, and planning, GUI and interface design for ease-of-use and consistent user experience and on-point branding and bespoke content services that create content for your display systems like video walls or digital signage networks.
Account Management
Shared values, effective communications and accountability from your dedicated account management team.
---
When you partner with proAV, your first port of call is your dedicated account management team.
They ensure they understand your organisation, your culture, its values, and processes. They have a deep understanding of your project and make sure all of the specialist teams working on your behalf are aligned, on track and deliver.
Global Delivery
True global delivery and support, 24/7 365, through our worldwide network of offices, partners and remote global services.
---
proAV provides true global delivery and support, 24/7 365 to organisations anywhere in the world and to global enterprises, thanks to our global network of offices and partners providing local services, global helpdesk services and global remote monitoring solutions.
To date we have delivered approaching 800 global projects and continue to support more than 700 organisations with global service contracts through our international network of offices in all UK regions, Dublin, Paris, Frankfurt, New York and Shanghai and partners across the world.
Want to learn more?
Let's talk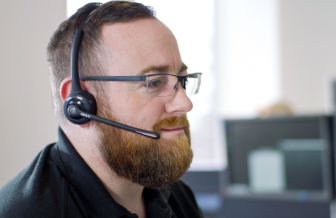 To book time with one of our experts please fill in your details below or call +44 (0)1784 601550.
---