 Our Technology Partners

Jabra
Jabra have over 150 years of experience developing technology that brings people closer together.
You may know Jabra from their world-leading professional audio solutions, which range from premium office headsets, to innovative speakerphones, to consumer true wireless earbuds, and more. With the move to flexible working, video meetings offer a more efficient way to collaborate. Which is why these days, they create, award-winning video solutions too.
Jabra made it their mission to reinvent your video experience with their cutting-edge range of PanaCast video solutions that feature the very latest 4K AI-based video technology along with outstanding audio engineering. From their unique 180° field-of-view that enables everyone in the room to be clearly seen without any distortion; to their AI-enabled intelligent features that automatically follow the action of a meeting and help reduce virtual fatigue; to inclusive meeting experiences that make everyone feel equal no matter where they call in from, their PanaCast solutions are intelligently engineered to make hybrid working work.
PanaCast video solutions are enabling effective collaboration and making a real difference to how dispersed teams work together. They may not replace the real-life handshake but they come real close. It's video collaboration. Reinvented.

Our sales experts are here to learn more about your business needs and provide the right products & solutions.​
Let's talk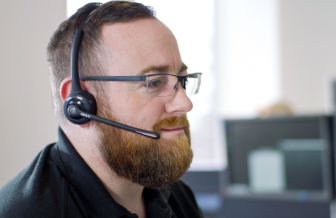 To book time with one of our experts please fill in your details below or call +44 (0)1784 601550.