 Sectors

Residential AV & UC Solutions
Delivering a world of audio visual and smart technologies to the home.
Meet our specialist
Mark Roberts
Residential/Hospitality Specialist
Our residential team specialise in prime residential properties with the experience and resource to deliver in both single occupancy & multi dwelling developments. We collaborate with leading brands to provide our clients with bespoke design, installation and integration all underpinned by our dedicated support service team.
Lighting & Blind control
One touch to set task or mood lighting.
---
Instant control over your lighting and blinds means you choose the level of lighting and set the mood of your room with nothing more than the touch of a button.
Whether that's on a control pad or your smartphone is completely up to you.
Or if you like the sound of your own voice, how about voice control as well. New home automation and control technologies mean homes have never been smarter.
Smart Home control
Living in a switch free world.
---
Waving goodbye to switches in your home gives you ultimate control over every aspect of your home, from any room in your home, or even anywhere in the world.
Any powered device is controllable so even before you get home, you can turn on the lights, set the temperature and have the music playing.
It's a smarter way to live but one that is also kinder to our planet, because it can reduce energy consumption and your impact on the environment.
Distributed Audio & Video
Music, games, video anywhere you want it.
---
You can listen to your music, watch Netflix or the big game anywhere you want to when you have distributed audio and video in your home.
So whether you fancy watching some TV in the kitchen while you're cooking, relaxing by the fire with a nightcap and your favourite tunes, exercising in your gym to some motivating music, or watching a movie with the family or a match with your mates, your content whether live or on demand is available.
Security
Feel more secure. Be more secure.
---
We all want to feel safe in our homes and the latest security technologies mean any part of our homes can be monitored in realtime thanks to high resolution cameras and streaming technology.
So whether you want to see who is at the front door, keep an eye on the kids or have a universal view of every aspect of your home for security monitoring, a smart security system gives you both the functionality you need and the peace of mind you want, no matter where you are in the world.
Structured wiring & networks
The hidden brains of your smart home.
---
What makes your home smart is the network and wiring around it. It's hidden from view, but this is where the clever stuff happens.
proAV experts can design your home network and cabling to deliver all the features and functions you want in your home and install it so it's hidden but accessible if needed for maintenance.
Most support and updates can be done remotely to ensure your smart home runs smoothly and you have all the very lastest features and capabilities.
When you're building a new home, it is never too early to start planning your smart home systems so they can be fully integrated into your home.
New technology can also breathe technological life into any property and with the right expertise, even the ancient or historic can be turned into a smart home.
Home Cinema
The ultimate showpiece of residential AV.
---
We partner with leading display and audio manufacturers to provide our customers with the very best technologies available to create stylish, bespoke solutions to entertain the family and impress guests. When the latest ultra-HD displays such as OLED, QLED and 4K projection are paired with 3D surround sound, the result is breath-taking and provides a truly immersive cinematic experience.
Concierge & support services
Let us take care of your smart home technology.
---
While today's smart technology is as easy to use as your smartphone, nothing is nicer than knowing your home is in the hands of experts.
We can build a support package around you that meets your specific needs, keeps your smart home running smoothly, up to date with the latest upgrades, and sort out any issues that might arise.
Help is on hand 24/7/365 from a multi-lingual Help Desk. Our Video Network Operations Centre is able to monitor and manage your smart home remotely to resolve issues. And we have a white glove concierge service, when you need someone on site to provide help and support.
Looking for support starting your project?
Let's talk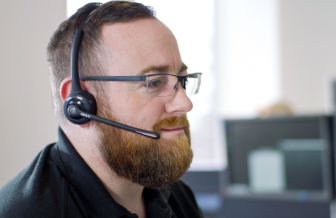 To book time with one of our experts please fill in your details below or call +44 (0)1784 601550.
---