 AV & UC Services
Enterprise Management
We make sure your AV and UC&C just work
We know service uptime is the key indicator of success when it comes to AV and UC&C technology in your workplace.
Organisations across the world already rely on us to keep their AV and UC&C systems up and running at peak performance, enterprise-wide.
And because your business is global, so is ours. That's how we deliver true 24/7 multi-lingual support 365 days a year.
We keep the AV and UC&C technology solutions of many hundreds of global enterprises running smoothly using a combination of remote monitoring and management through our state-of-the-art Video Network Operations Centre and our teams of expert field engineers and on-premise support personnel.
You choose from the mix of proactive, preventative maintenance that optimises uptime and keeps your systems running smoothly, and our highly responsive incident resolution.
We know that achieving optimised service uptime, actually starts much earlier in the process, with the right systems design, the right standards, the right service integration and testing and proAV's holistic approach ensures all stages of the deployment are aligned.
Resources
"proAV have maintained our AV equipment now at Nine for a good number of years and have never failed to provide an excellent service. We have 6 meeting rooms of various sizes with various facilities within. The engineers who attend site are approachable, flexible and very professional. The admin and sales side of the outfit are as enthusiastic as the teams on site, ever looking to provide support for the client. Having proAV maintain your equipment will provide peace of mind, especially today when technology is so important when communicating with one another. "
Arran Ellis
Facility Manager, Colliers
"The solutions have been reliable and the support we get from proAV when needed is excellent – we have since extended the range of AV solutions into a second site to provide the same user experience."
John Chambers
Head of IT, Stockport Homes Group
Global Remote Monitoring Solutions: VNOC
With the right system design, most issues can be resolved remotely with our VNOC.
---
Remote monitoring and management of your AV, production and UC&C technology solutions is the key to the highest levels of service uptime and cost efficiency.
We deliver this through our global Video Network Operations Centre or VNOC.
Our platform enables us to identify, intervene and resolve most problems before you are even aware there is an issue, and to escalate for on-site resolution in line with your specified support process.
Our VNOC provides true 24/7 service worldwide, with no danger of issues falling between the cracks as happens with many 'follow-the-sun' support structures.
Global Help Desk Services
Flexible, cost-effective and multilingual support available 24/7/365.
---
At proAV we set the highest standards within the AV industry for customer support services.
Our international help desk service solutions are designed for organisations that need instant, flexible, front line support. Our dedicated team provides the highest level of customer service and has access to a highly qualified technical skills team that can solve any problem.
We are here for you 24/7/365 and that's what gives your users the peace of mind they need to utilise your investment to its full potential. It dramatically increases your organisation's productivity and reduces your operational costs.
At proAV we have devised a bespoke portfolio of state-of-the-art support options and services to suit any client around the world. So, whatever your requirements, our professionally trained Help Desk team will deal with your enquiry quickly and efficiently, in order to get you the right support fast.
Contact help desk
FM Onsite Support
On-site FM excellence you can count on.
---
Whether in partnership with your Facilities or IT provider we understand the need for the highest standard of AV technology management services to deliver service excellence and achieve high levels of client satisfaction.
proAV already serves as a trusted partner to many clients, either directly or via allied service providers, delivering specialised hands-on expertise to support their business operations.
Our onsite teams consist of the industry's finest CTS certified AV technicians managed by experienced team leaders who manage service delivery including meeting support, infrastructure checks, training provision, reporting and monitoring as well as providing event management support and delivery as required.
Dedicated Field Support Engineers
Our team of experts is on hand to diagnose and resolve on-site when needed.
---
Our in-house team of dedicated field support engineers is highly skilled and accredited. Every client we support has a tailored Service Level Agreement (SLA) which provides an agreed level of on site call out support within a fixed response time.
Their breadth of expertise across AV, IT and networking ensures they can diagnose and resolve even the most complex issues, offer preventative maintenance, fault resolution and loan equipment support if required.
They also are skilled communicators able to keep all stakeholders informed.
Service Delivery Management
Accountable and transparent are our watchwords.
---
Our clients look to us to manage their service delivery effectively and being accountable and transparent are key to demonstrating value.
Your Service Account Manager serves as your first and consistent point of contact and is your gateway to all information and reporting.
They are experienced in service delivery management and take responsibility for your account from the design of your service package to its ongoing management.
They are also able to advise on requirements for additional projects and services or technology upgrades with the support of our technical specialists.
Hire and Event Services
We can manage your event technology leaving you free to focus on your event attendees' experience.
---
Whether your event is virtual or physical or a hybrid of the two, you need it to run smoothly and professionally.
Our team is on hand to provide whatever level of support you need, whether you want a top-up to augment your own on-site service or a fully outsourced service that leaves you free to focus on delivering the right content and guest experience.
We can provide all the specialist creative input, equipment and expert personnel you need, for any type of event including virtual conferences and hybrid events.
Want to learn more?
Let's talk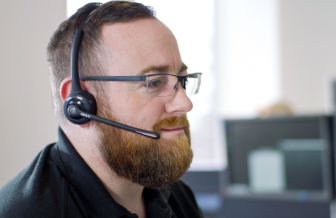 To book time with one of our experts please fill in your details below or call +44 (0)1784 601550.
---