 proAV staff complete Thames Bridges Challenge for White Lodge Centre
15/09/23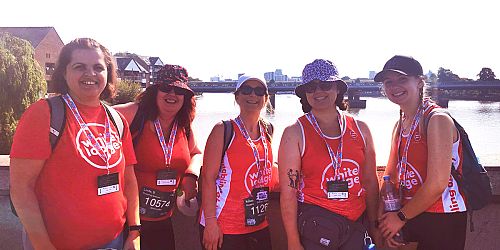 We are delighted to share that our proAV team completed this year's Thames Bridges Trek on Saturday 9th September 2023 and have raised a fantastic amount of money for White Lodge Centre.
The team called the "Shopping Queens" featuring Linda Derecourt, Lauren Gray, Camilla Haynes, Csilla Taibi, and Rebecca Lindsay are all members from our Procurement team. Together, they managed to complete the full 25km distance across London going over 16 bridges during the journey. The team have been able to raise an incredible £3,788 for White Lodge Centre. Their fundraising, along with other White Lodge walkers, contributed to a grand total of over £11,400 raised for the charity. All of this will help enable those with a range of disabilities, their families and carers to lead fulfilling lives.
Our team is still taking donations, so if you wish to contribute towards this great cause, you can do so using the Read More button below.

Congratulations to the team for their amazing fundraising efforts!