 Support for Breast Cancer Research Foundation
09/12/17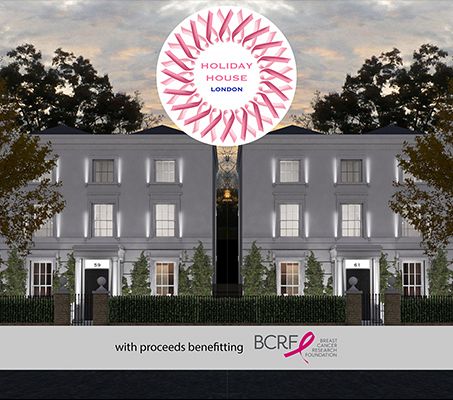 proAV supports Breast Cancer Research Foundation with digital art video wall at the first UK Holiday House exhibition
proAV is supporting this month's inaugural Holiday House London event with a stunning video wall installation that will display digital media art and designer presentations whilst raising vital funds for the Breast Cancer Research Foundation (BCRF).
Set within a vast designer showhouse comprising two palatial homes in St John's Wood, this remarkable interior design exhibition will see proAV will install a 3.64x2.05m video wall that will fill the entire wall of the main media room – just one of 25 individually designed rooms. The screen and mounting architecture has been generously supplied by proAV's partners, Samsung and Peerless AV.
With over 40 years' experience in the audio systems industry, proAV is one of Europe's most progressive AV systems integrators. Its residential AV team specialises in providing premium residential properties with world-class, smart home automation control and bespoke home cinema solutions. Holiday House London presents an ideal backdrop to showcase these powerful technologies as Mark Roberts, proAV Residential Sales Manager confirms.
'We're delighted to be supporting the Breast Cancer Research Foundation,' he comments. 'We're also championing leading British interior design house, Iggi, for the Holiday House event, which will enable proAV to demonstrate how exclusive digital media art can be delivered into a home environment.'
As it celebrates its 10-year anniversary, Holiday House is an inspirational showhouse that will enable leading interior designers and lifestyle brands to showcase their talent and designs and is being held outside the US for the first time. Founded by Iris Dankner and co-chaired by interior designer, Rachel Laxer, and breast cancer survivor and philanthropist, Joyce Misrahi, the event will raise crucial funds for the prevention and cure of breast cancer.
The founders chose London as its new venue for Holiday House because of its renowned association with powerful interior design and the revered designers who are based in the capital. The showhouse will give UK interior designers and followers the opportunity to experience groundbreaking designs within unique living spaces that are themed around holidays and special moments in life that inspire the designer. The founders intention is that the event will be focussed as much on celebrating life as on fighting breast cancer.
Holiday House will open during London Design Festival in September and run from 9th November to 10th December 2017. You can find out more about the event and buy tickets at theholidayhouselondon.com.