 Crestron Integration Awards
27/02/17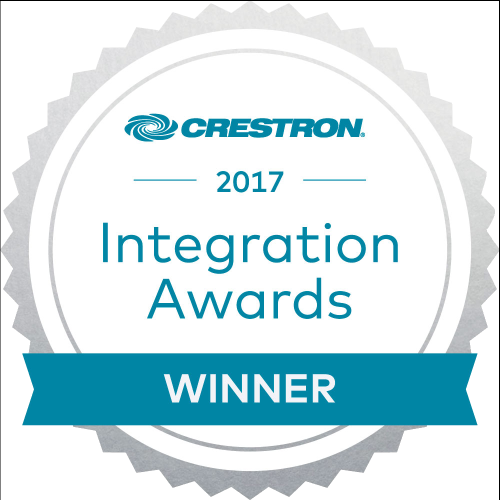 proAV is 'stand-out winner' of the Ultimate Crestron Award at ISE 2017
proAV has played a starring role in this year's Crestron Integration Awards at ISE 2017 with a spectacular win for a project to equip the London base of a Swiss financial services firm with an extensive AV scheme that remains the largest corporate AV project awarded in the UK.
As the Crestron Integration Awards returned to ISE 2017 in Amsterdam for a tenth year, the world's most dynamic names in AV tech were recognised for their technology and engineering skills in projects that featured Crestron solutions across the EMEA region.
However, it was proAV that was crowned the year's leading contender by scooping a special 'Ultimate Crestron Award' for its project at the Swiss Financial Services Firm in London. It was described by the judging panel as 'the stand-out winner of the Ultimate Crestron Award, this installation perfectly captures the high level of AV design standards, control systems and presentation facilities currently deployed in the corporate sector'.
Indeed, standards for this year's Crestron Integration Awards were higher than ever as Robin van Meeuwen, CEO and President of Crestron EMEA remarked.
'This year's entries demonstrate an inspiring versatility and creativity that highlights the sheer breadth and depth of Crestron expertise in so many different countries. It was a challenge to whittle the entries down to a manageable shortlist – but we did and the Judging Panel felt each shortlisted entry demonstrated new and creative ways of using Crestron.'
The largest specified UK corporate AV project in the industry.
The project to equip the financial services firm covered 67,000 square metres of trading floors – representing the largest single concentration of traders within the City of London. This was the largest specified corporate AV project in the industry at the time and encompassed two packages of work, all consistently remaining BREEAM compliant to ensure the sustainability of the iconic building and its overall environmental performance was upheld.
Crestron solutions were prominent in the overall project design to facilitate local room control and the linking of the various spaces through a central digital routing system made possible with Crestron DM that was deployed throughout the building.
All spaces include the following Crestron equipment: touch screen control, room booking panels, table recessed connection units in meeting room tables and meeting room audio systems.
Crestron Fusion was also implemented to provide remote device management and room scheduling interfacing into the client's EMS room booking system. Energy management was also a key consideration with Fusion allowing the management of power and distribution systems throughout the building.
Additional key technologies on this award-winning project included video and audio conferencing, over 300 LFDs, IPTV and digital signage systems, LED video walls, 54 world clocks, room booking system, over 200 meeting rooms including 30 'Skype for Business' meeting rooms, broadcast cameras and recording facilities, a multi-projector edge blended, rear projection system with customised glass optical projection screen in the auditorium.
proAV's Managing Director, Richard Brookes, was particularly proud of the organisation's achievements during one of the most hotly-contended ceremonies in recent years.
'We were overwhelmed to be presented with the Ultimate Achievement Award,' he revealed. 'We were among the finest of professional AV integrators who all share an unwavering commitment to delivering world class audio visual solutions in this competitive industry. Our winning project called for a seamless deployment across this global client's network, which relied on the efforts of a skilled project team who managed the complex infrastructure and technologies thanks to the bespoke systems and processes we devised specially for the client.'
'By working closely with the consultant and Crestron, we have installed and commissioned the largest corporate AV project to date in the UK. It met the client's expectation and high demand for building wide AV solutions that are easy to use and supported by a robust enterprise asset management system. The solutions deployed are both resilient and well supported by Crestron and the rooms have subsequently been accredited 'Crestron Certified Design (CCD)' thereby qualifying for an extended warranty of five additional years, which has ultimately reassured the client that their investment has been future-proofed and supports the latest AV/IT standards.
'This remains one of our most challenging, yet highly respected projects to date – our award is testament to that success.'
proAV, along with the winners of the other Crestron Integration Awards, was presented with its trophy during a ceremony on Crestron's stand at ISE 2017 on 8th February.