 proAV are Install Awards winner 2016
04/07/16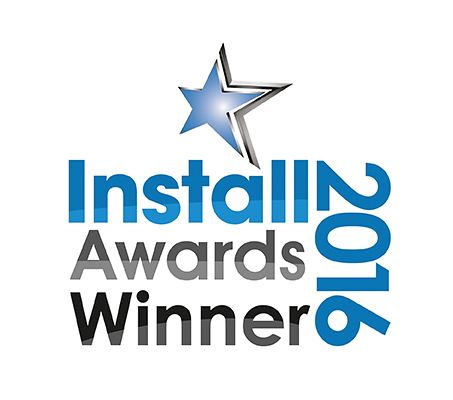 proAV's University of Surrey Vet School AV solution wins innovation acclaim at InstallAwards 2016
proAV's powerful AV scheme at the University of Surrey's new Vet School has been recognised with the Business Project Award for Innovation at the InstallAwards 2016, which celebrate noteworthy installation projects and the teams behind them.
The School of Veterinary Medicine is the UK's latest school of its kind and, thanks to proAV's award-winning audio visual solution, the learning experience of thousands of prospective veterinary science students will be among the most dynamic and enriching the world's teaching facilities can offer.
The stunning £45million School of Veterinary Medicine buildings were designed by leading architecture firm, Devereux and include a main teaching facility, a Veterinary Clinical Skills Centre and a Veterinary Pathology Centre that is one of Europe's largest and most sophisticated of its kind.
proAV was commissioned by specialist AV consultancy, Coleman Bennett International (CBI), to deliver a future-proof AV solution for all three buildings that would ensure the School meets its commitment to creating a vet school that is 'different' and offers unique learning opportunities and broad horizons. The project was underpinned by technological mastery that spanned 30 teaching rooms and pods, a biomechanical lab, mock surgery areas, a divisible teaching lab and large and medium-sized lecture theatres.
The results of such an ingenious deployment are evident across the Vet School's three buildings. The world's most advanced 3D capture, display and projection capabilities now offer unparalleled collaborative and interactive learning with 3D filming that gives multi-perspective demonstrations with Slow Motion functionality and on-demand footage. In addition, IPTV distribution and digital signage streams content from 3D cameras and the School's TV channels via multiple 3D, 2D and LFD displays - all of which are controlled by wired and wireless touchpanel controls. The solution also incorporates professional audio systems throughout and assistive listening technology via induction looping.
Delivering original educational resources and insights for veterinary students
This was also a time-critical project, with proAV tasked to deliver the entire School of Veterinary Medicine AV solution within just six months in order for it to attract the finest student and teaching talent before the new facilities were launched. Successfully commissioned within the allotted timeframe, the University held a Grand Opening that was attended by HM The Queen, HRH The Duke of Edinburgh and other special guests who enjoyed a tour of the new buildings, which unsurprisingly included the stable block. There is space for some 74 animals to be housed on site with superb partnership arrangements with external practices in place to allow students to handle various species that may be encountered in their future careers.
As Head of School of Veterinary Medicine, Professor Chris Proudman, explained, these new facilities are delivering original educational resources and insights for students.
'Our extensive network of partners in clinical practice, industry and research opens up unique learning opportunities for our students and for industry-relevant research. Our global outlook ensures an international perspective on all aspects of veterinary science.'
'We now have a powerful, integrated AV solution that sets the University apart with an impressive educational environment that has all the technological resources to deliver a dynamic teaching experience,' added Rob Purcell, Group Leader, IT Support at the University. 'The veterinary students will really benefit from the powerful displays with state-of-the-art 3D streaming, viewing and content distribution that create a collaborative and interactive learning experience across the campus.'
For proAV too, this was a project that has enhanced an already enviable portfolio of projects that have enhanced educational environments across the UK.
'Central to the success of this project was our ability to deliver a forward-thinking scheme that would accommodate future technological advances that are likely to emerge within the educational arena,' revealed Damien Massarella, Senior Business Manager at proAV. 'What we've done with this project is support the University's reputation as a centre of excellence with world-class teaching resources as well as deliver ROI opportunities for wider use of the new facilities.
'This facility is only the second of its kind to open in the UK in the last 50 years and is designed to sit at the forefront of veterinary medicine and act as the driving force behind the 'One Health' philosophy that endorses a link between human and animal health. We're justifiably proud that the InstallAwards judging panel has acknowledged the ingenuity of an AV scheme that's transforming the lives of our future veterinary professionals.'
You can read more about proAV's School of Veterinary Medicine project here.