 proAV UC Guide | Logitech & Teams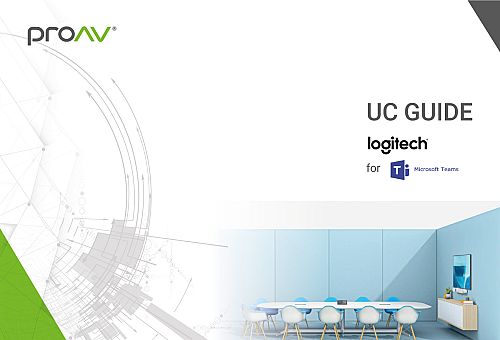 Logitech + Teams | Raising the Bar on Video Meetings
Transform any space to a Microsoft Teams Rooms meeting place with one-touch join, easy content sharing, and center-of-room control for Teams meetings. You can also leverage "proximity join" from your smartphone or laptop.
Logitech Room Solutions for Microsoft Teams include everything you need for video meetings, available in small, medium, and large configurations. These pre-configured systems include a mini PC, Logitech conferencecam with RightSense™ technologies, PC mount with cable retention, and the Logitech Tap touch controller.
Effortlessly share whiteboards into your Teams meetings by adding Logitech Scribe, an AI-powered whiteboard camera elegantly-designed for the modern office. With Scribe, both remote and in-office workers can have the best seat at the table.
Easily monitor and manage your meeting room devices from the Microsoft Teams Admin Center or Logitech Sync. Plus, get business insights into how your rooms are being used.
Register to download
To learn more fill in you details and this resource can be yours.