 proAV UC Guide | Teams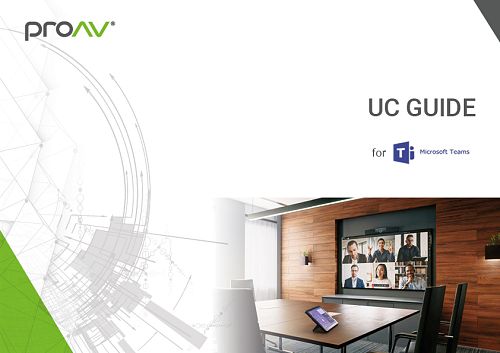 Empower all meeting participants, wherever they are.
When virtual employees feel as immersed in meetings as those in the office, teamwork flows. Unleash your team's full potential with the capabilities of Microsoft Teams Rooms.
Flexible. Secure. Designed around people. Microsoft Teams Rooms connects your employees to high-spec meeting spaces in your office – even when they're not in the room.
Microsoft Teams Rooms are purpose-built, native calling and meeting solutions delivering a complete Teams meeting experience, with high-definition audio and video, on Teams certified 1st and 3rd party hardware. When we say "purpose-built and native" we mean the experience is specifically, and thoughtfully designed by Microsoft for the Teams user.
Teams Rooms go beyond what can be done with Teams on personal devices by providing unique in-room capabilities, like one-touch join, content cameras to share physical whiteboards into the meeting in an intelligent way, and proximity features like seamlessly transferring the room into a Teams meeting from your own personal device.
Already using Microsoft Teams at the desktop? Enhance the user experience with certified peripherals. Easily manage from one place - With a Microsoft Teams Rooms Standard licence, fully manage devices yourself via the Teams Admin Centre. Or choose the Premium licence for 24/7 Microsoft proactive management.
Register to download
To learn more fill in you details and this resource can be yours.
Stay updated with regular proAV news & resources