 Partner Products

Huddly S1

AI video camera for small to medium rooms
Huddly S1, a state-of-the-art AI camera for small to medium meeting rooms, is designed to help facilitate effective, inclusive collaboration.
Using input from the image sensor and directional microphones, Speaker Framing intelligently frames the conversation, switching between speakers and listeners. This results in a more natural and immersive video experience.
Huddly S1 captures everyone in the room, even those who are sitting close to the camera. Thanks to a custom high-resolution image sensor and an ultra-wide-angle lens, everyone is seen clearly and can be a part of the conversation.
Powered by AI, Huddly S1 can see, understand and respond to what is happening in the room to deliver smart experiences like Genius Framing and Portrait Lighting. The camera can also provide crucial insights into meeting room usage. Using a single Ethernet connection, the camera is designed for flexible and reliable installation in any room. Connecting to meeting room devices is seamless with Huddly's USB to PoE Adapter.
Our sales experts are here to learn more about your
business needs and provide the right products & solutions.​
Let's talk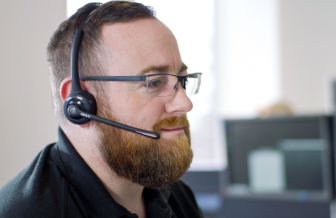 To book time with one of our experts please fill in your details below or call +44 (0)1784 601550.
---