 Partner Products

Crestron Flex UC-MMX30-T-I
Designed for small rooms, the UC-MMX30-T-I Crestron Flex is a tabletop conference system designed to provide a video conferencing solution for use with Microsoft Teams.
Supporting a single or dual video display, this solution features everything you need to bring the full Microsoft Teams UC experience into your organisation. With a UC Bracket Assembly providing preassembled components on a ready-to-mount bracket; installation is simplified when attached to the rear of the display device.
The system includes a collaboration camera with an ultra wide-angle 150-degree diagonal field of view to capture the entire conference room in full 1080p resolution thanks to high precision aspherical optics, a 12-megapixel CMOS sensor. Powered with advanced video processing, the camera ensures clear video free from light or noise artefacts. To keep your meetings inclusive, the camera's Genius Framing digital autozoom can also detect people in the room and frame them for the most optimal view.
Also part of the solution is a Crestron Flex Tabletop Conference device featuring a 7-inch HD colour touch screen and an integrated AEC-enabled USB speakerphone affording full-duplex wideband audio performance. By using the UC Presentation Transmitter included in the room kit, meeting participants can take advantage of BYOD by connecting their laptops to use their own UC conference platform. Network management and provisioning for the complete system, along with system alerts, can be provided through the XiO Cloud service. With Enterprise-grade security, it can connect and communicate securely over any organisation's network.
Our sales experts are here to learn more about your
business needs and provide the right products & solutions.​
Let's talk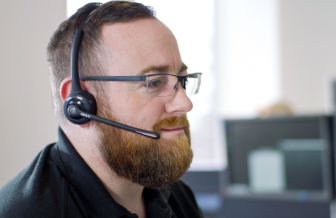 To book time with one of our experts please fill in your details below or call +44 (0)1784 601550.
---