 proAV provides the first mobile COVID-19 barrier that is fit for purpose
19/05/20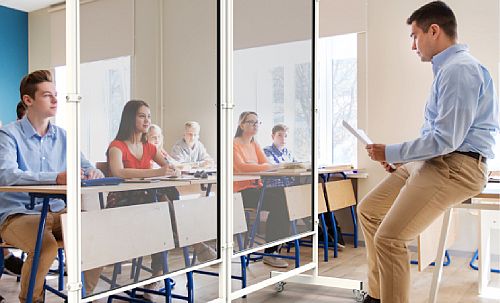 Where they differ from other products is that they are made to a professional/commercial standard.
The proAV Mobile COVID Protection Barriers are robust, fully mobile, and will stand up to the rigours of constant use, movement & cleaning. They are suitable for any space that requires distancing measures for personal or public protection.
The proAV Mobile COVID Protection Barrier is crystal clear, and it is made from LUMEX a premium quality amorphous polyethylene terephthalate (A-PET) sheet. The Lumex panel has impeccable optical properties with a light transmission of nearly 90%. It conforms to ISO 179 for impact strength and ISO 868 for surface hardness, does not contain BPA, and is suitable for constant chemical cleaning.
If you need more information we will gladly help you out, please contact Jonathan Cunningham at regional.sales@proav.com.