 Partner Products

Q-SYS Core 110f

Flex Channel Processor
The Q-SYS™ Core 110f processor provides a fully integrated audio, video and control solution for installations.
The Q-SYS Core 110f is a multipurpose software based digital audio signal processor. It provides a solution for small, single room projects up to the largest Enterprise scale deployments. QSC's software-based DSP Platform Q-SYS provides a unified software design tool and feature set suitable for projects of any scale. The continuity of the DSP Platform allows the Q-SYS Core 100f to leverage all the features that are available across the entire Q-SYS™ Platform.
Features:
Class leading I/O: Core 110f has 24 I/O + USB, POTS and VoIP simultaneously offering the best cost to I/O ratio in a single SKU, single chassis product available on the market.
8 Flex Channels: Nearly all the flexibility of a card-based DSP solution without the hassle of multiple SKU's and custom ordering.
True IT Software Integration: The Q-SYS Software Ecosystem is a true IT integrative solution
Suite of Software-Based Conferencing Technology applications: The suite includes next generation acoustic echo cancellation (AEC), multiple-instance SIP softphones, gain sharing and gating automixers.
Unified Software Platform.
Our sales experts are here to learn more about your
business needs and provide the right products & solutions.​
Let's talk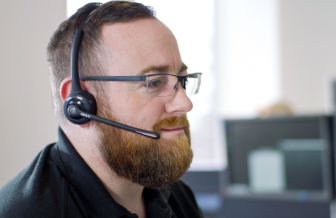 To book time with one of our experts please fill in your details below or call +44 (0)1784 601550.
---