 proAV UC Guide | Crestron & Zoom Rooms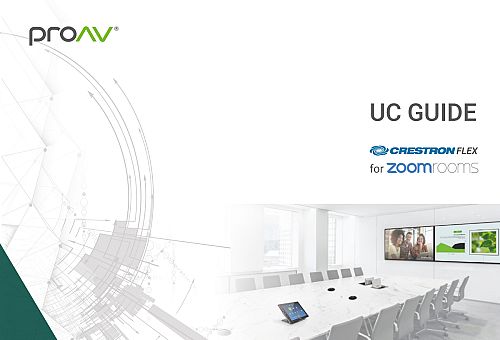 Crestron Flex natively supports Zoom on every device, everywhere people work.
Carefully designed to support Zoom's streamlined user experience, the Flex range provides seamless scalability across the desktop, huddle space or meeting room and even larger custom spaces.
Complimented perfectly by their intelligent room scheduling solution, which directly connect to Zoom, user adoption is at the forefront of Crestron's product design.
Crestron's XIO Cloud platform provides the intelligent IoT- based service that enables proAV to proactively manage and monitor your estate, enhanced by analytics allowing knowledge based evolvement of workplace technology as your estate develops.
As a Crestron Elite partner, a Zoom Rooms Gold certified integrator and Zoom authorised licensing reseller, proAV is uniquely positioned to assist you on your Zoom and Crestron journey.
Register to download
To learn more fill in you details and this resource can be yours.