 proAV supports The Estée Lauder Companies' Tech Day of Pink 2022
03/10/22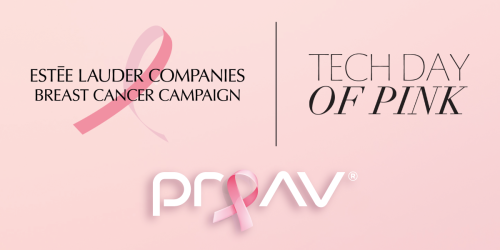 Thursday 13th of October 2022 is The Estée Lauder Companies' Tech Day of Pink, a special day that unites technologists and IT professionals worldwide around breast cancer awareness, education, and fundraising.
proAV is proud to be supporting this charity event once more and will be encouraging staff to wear pink clothing or a Pink Ribbon on the Tech Day of Pink to support this amazing campaign.

More Information
The Breast Cancer Research Foundation - The Estée Lauder Companies' Breast Cancer Campaign's leading partner. BCRF is the highest-rated non-profit breast cancer organisation in the U.S. dedicated to funding the world's most promising research to end breast cancer for all.
Breast Cancer Now - A charity that's steered by world-class research and powered by life-changing care. They provide information on and support for those affected by breast cancer.
Donate to Tech Day of Pink
If you wish to make a donation, simply click the read more button that directs you through to the official Tech Day of Pink 2022 UK & Ireland fundraising page.