 Partner Products

Barco Overture
Campus and Enterprise-wide A/V remote monitoring & management (RMM)
Overture is an effective campus-wide and enterprise A/V monitoring and control software solution. It monitors, controls, and manages all A/V and other networked devices in multiple locations, and delivers a friendly, highly interactive user interface.
Overture enables your digital transformation in device monitoring and management for the ultimate user experience in your Collaborative Work and Learning spaces.
Whether you have to monitor and manage 10, 100 or 1000 classrooms, huddle rooms, lecture halls, or collaboration rooms, Overture delivers an easy to use, reliable and scalable solution. Setup is easy, requiring just a few clicks for a complete installation. Through the local network it connects to all your deployed devices so no need to rely on any proprietary hardware. From the power of its monitoring dashboard to its insights for optimising your workspace capacity – Overture does it all! In addition to the Remote Monitoring Management application Barco's A/V control and monitoring solution also offers Overture Insights which enables facility/IT staff and AV managers to keep a close eye on the way their meeting rooms and equipment are used. With this information, they can take the proper actions to optimise ROI.
Our sales experts are here to learn more about your
business needs and provide the right products & solutions.​
Let's talk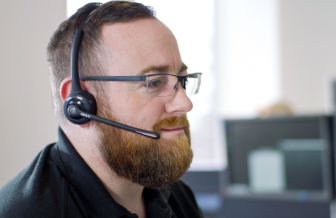 To book time with one of our experts please fill in your details below or call +44 (0)1784 601550.
---